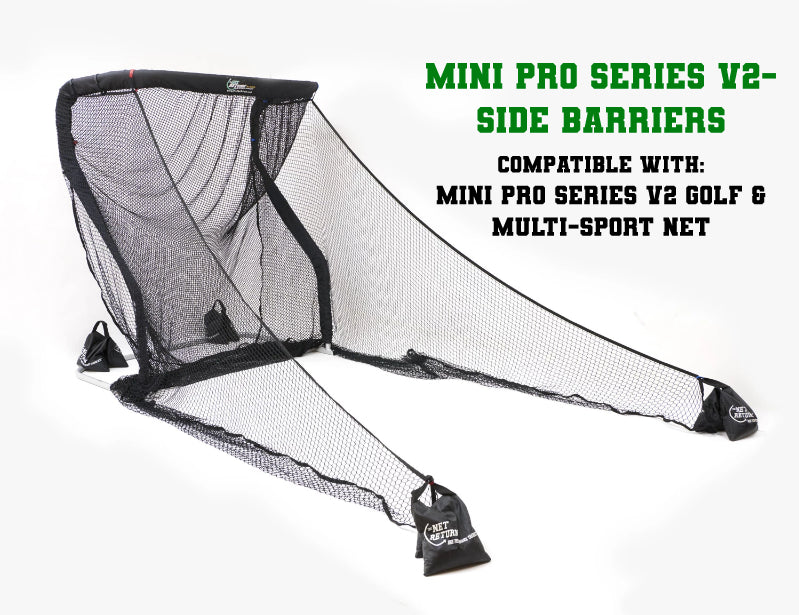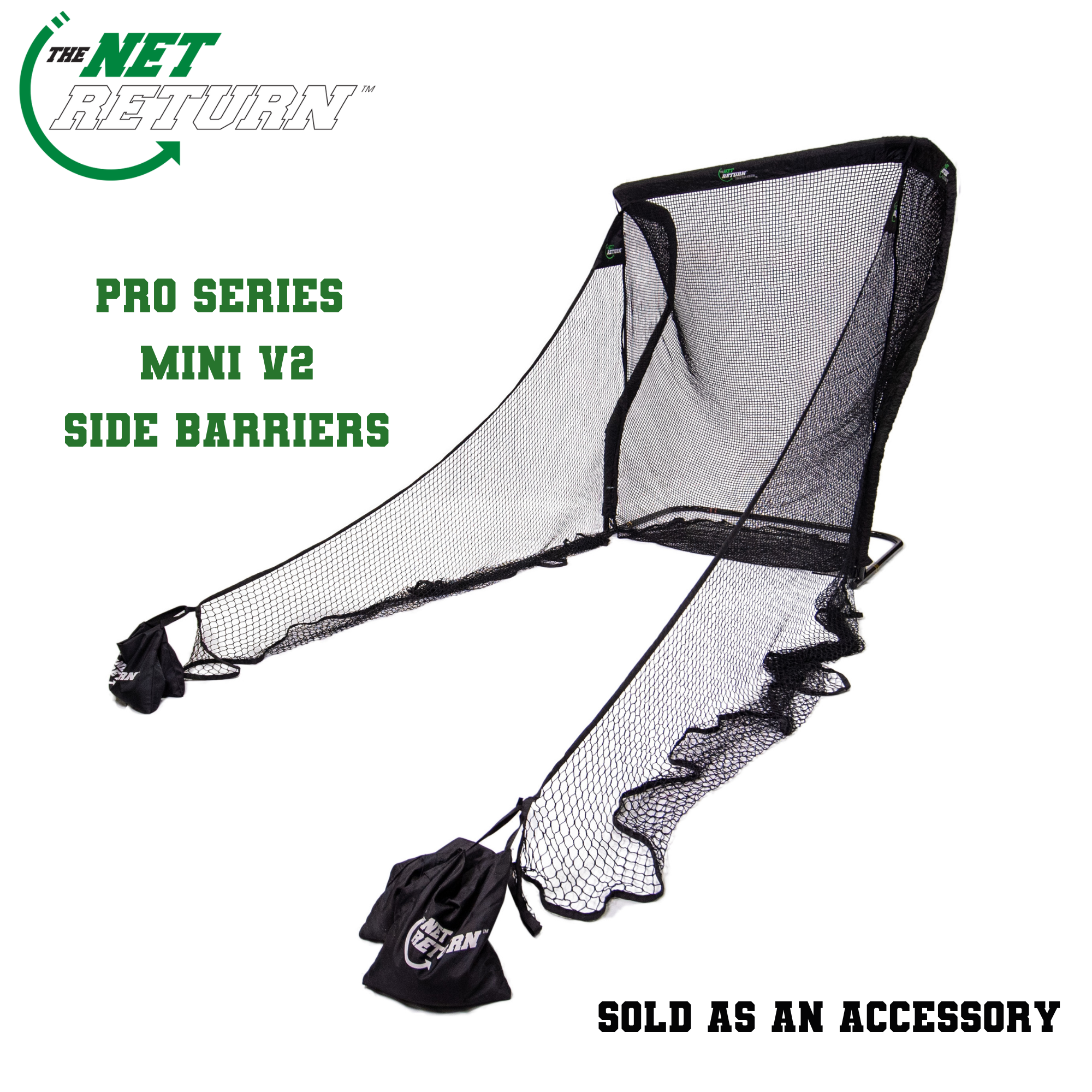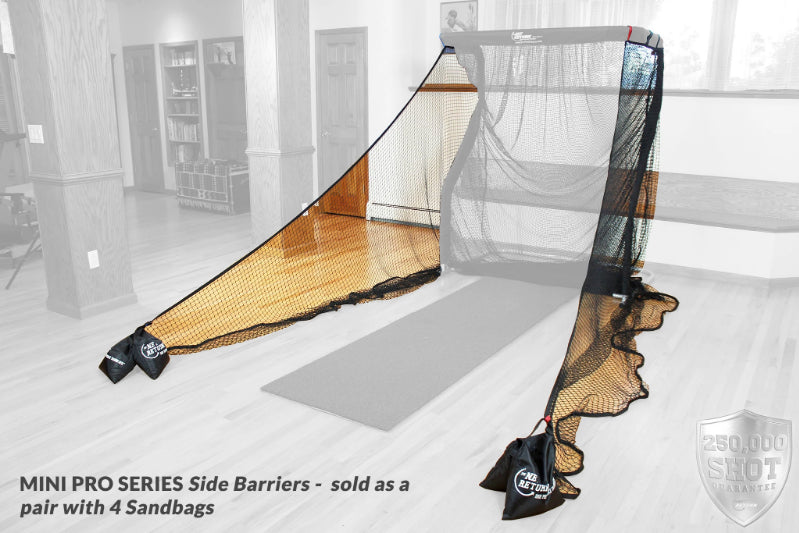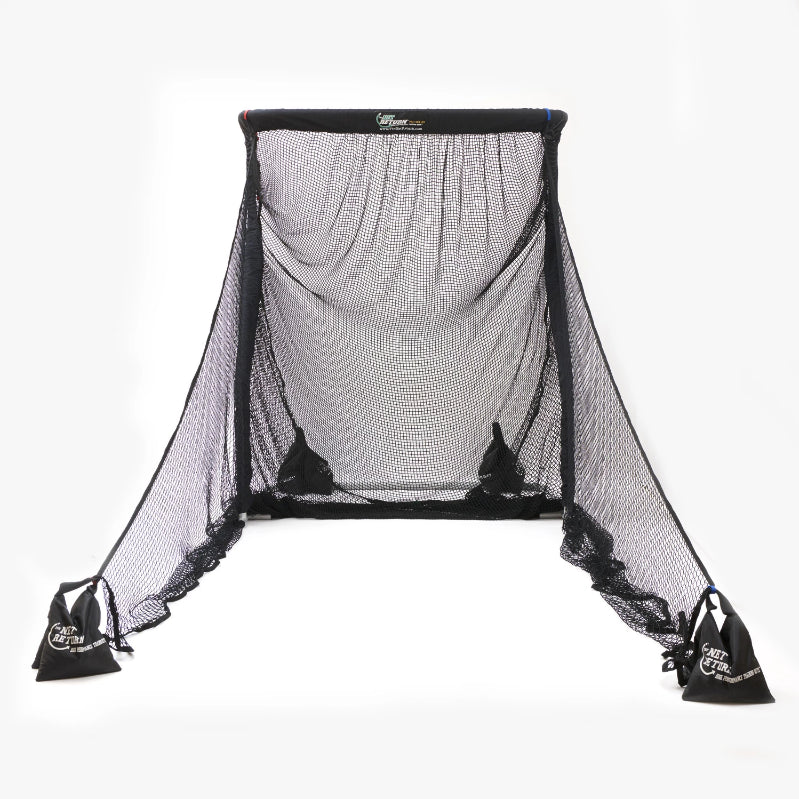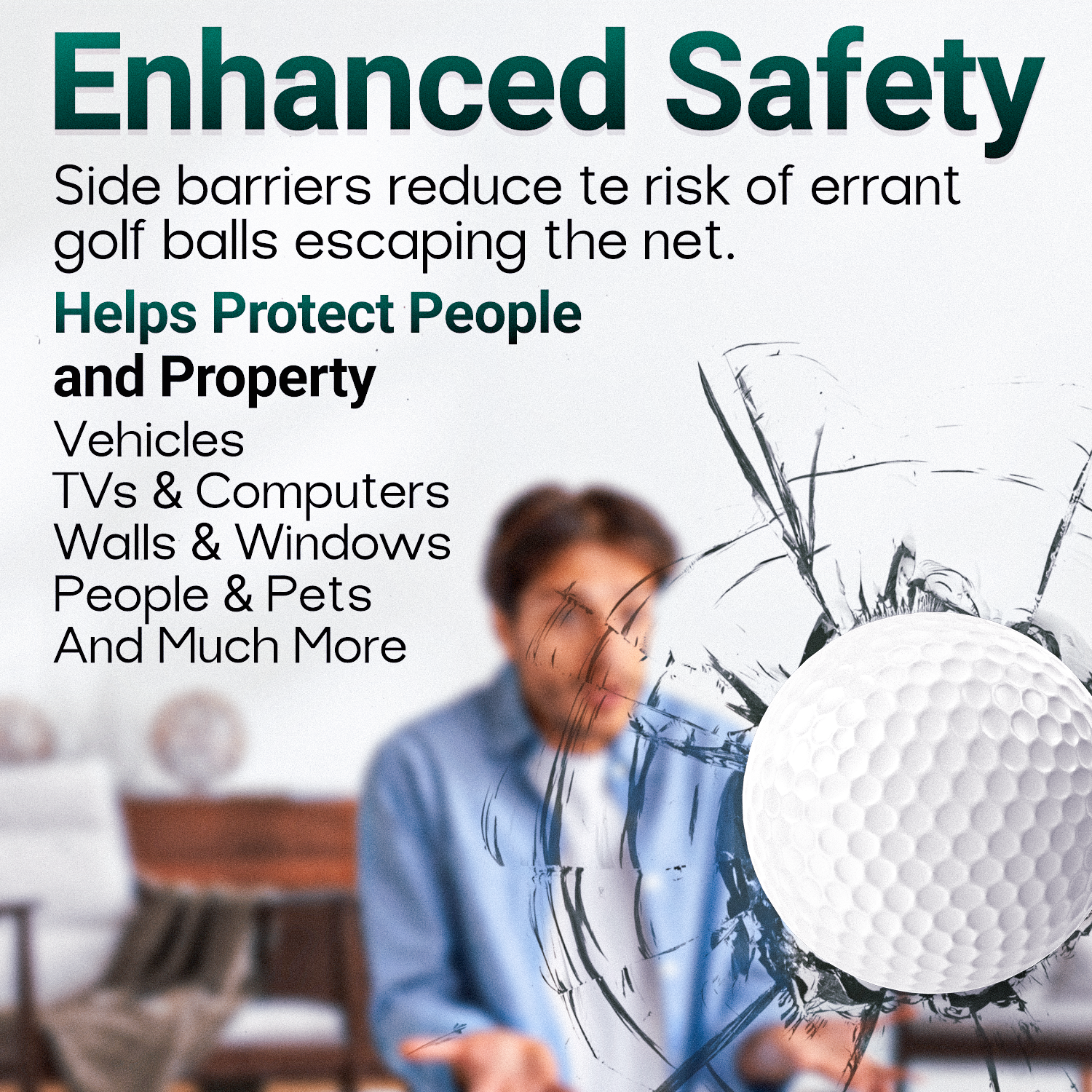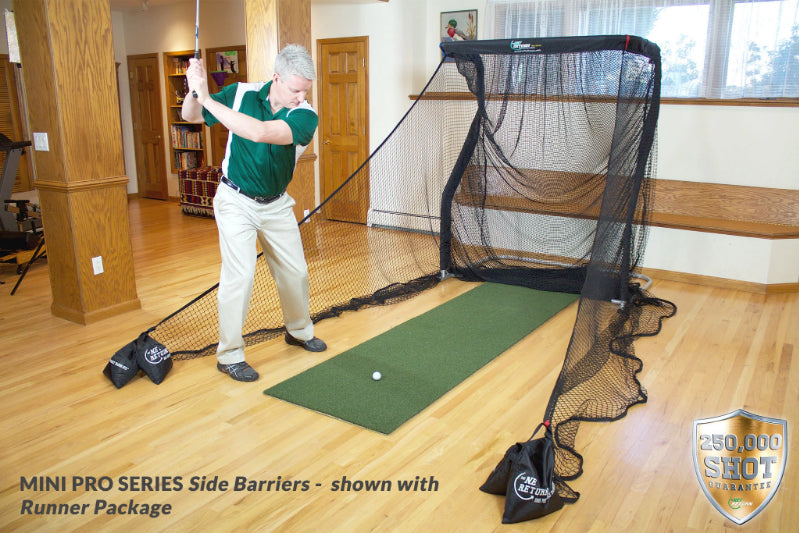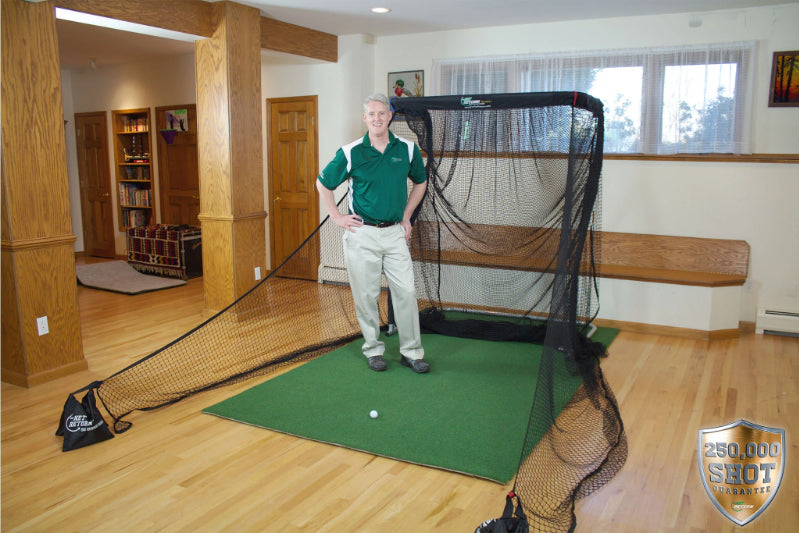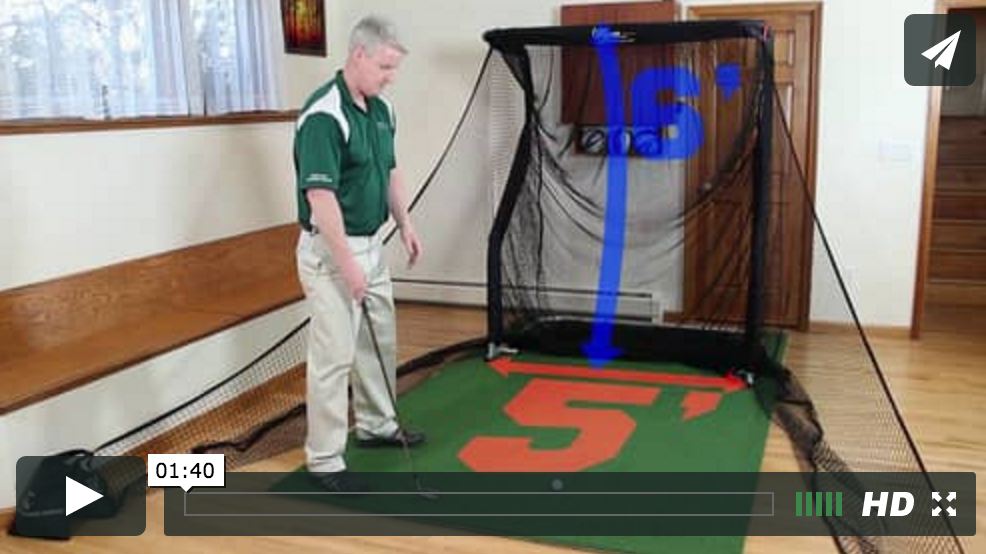 Mini Pro Series V2 - Side Barriers - Pair (4 Sandbags Included)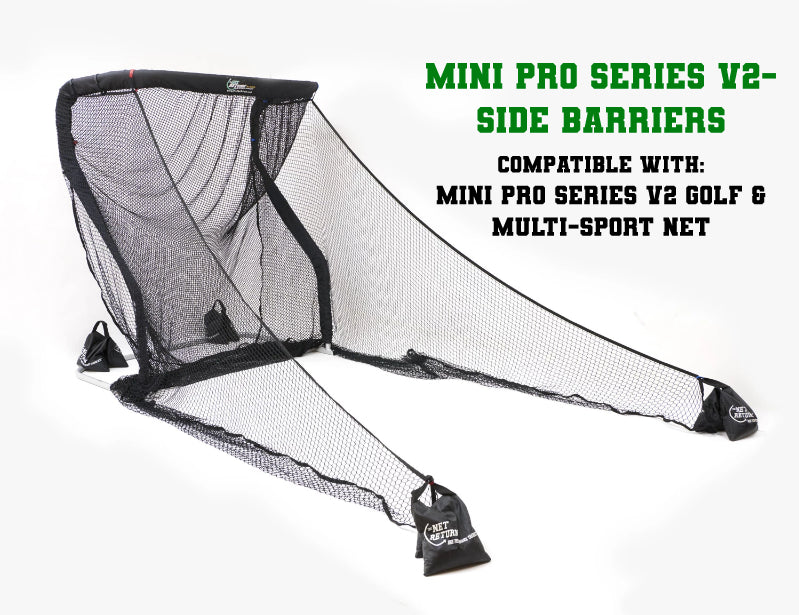 Description
The Mini Pro Series V2 Side Barriers are specifically designed for use with The Net Return Pro Series Mini V2 Net. The Side Barriers insure that stray or erratic balls never leave the hitting area.
If using the Mini Pro Series net indoors or in an area where errant balls are a safety concern, the Side Barriers are required. Many golfers also choose to add the Side Barriers when considering "Friends and Family" hitting into the net.
If you are an accomplished golfer or using the Mini outdoors where safety is not a concern, the Side Barriers are not required.
Understand also that the Mini Side Barriers can be added at anytime and are not required for use with the Mini Pro Series net.
The Mini Side Barriers are made of polyester netting, setup in under 5 minutes (using Velcro color coordinated tabs) and can be easily stored or transported in the Pro Series duffle bag. Each Side Barrier is individually cut and sewn by hand.
Each pair of Side Barriers weigh approximately 6 lbs., are 5'10 high and extend out to 8' - 9' in length. They are sold in pairs (right and left), can be extended straight out or setup on wider angles as needs dictate. Each set of Mini Side Barriers are extended out by using sandbags, four are provided - one for each Side Barrier and two on the rear of the frame.
When extending out the Side Barriers to their max distance (approximately nine feet or so) you may also want to weight (sandbag) or stake the back of the frame. Extending the Side Barriers to their maximum distance can often lift the back of the frame off the ground by several inches. The weighting of the rear of the frame will eliminate this.
Also Note -
The Side Barriers can be walked into the front of the frame when not in use, to recover any lost floor space. Simply pick up each sandbag, walk in and place on the side of the frame. It's that simple...
Be sure to check out our videos (below) for easy assembly and installation instructions
Shipping

United States. We offer Free UPS Ground Shipping in the USA. Additional carriers and rates available at checkout. Expedited rates available.



Outside the United States

. Rates are calculated at checkout based on your order and location.

Returns

We offer a 30 Day Money Back Guarantee on undamaged product. You are responsible for any shipping charges involved in the return process. Please fill out the form below, and send all returns to the following address:

Please click here if you are returning your product

The Net Return - FAQ from The Net Return on Vimeo.

The Net Return, LLC.
280 9th Ave.
Unit #4
Hawthorne, NJ 07506

(973) 636-7354
This product has no reviews yet.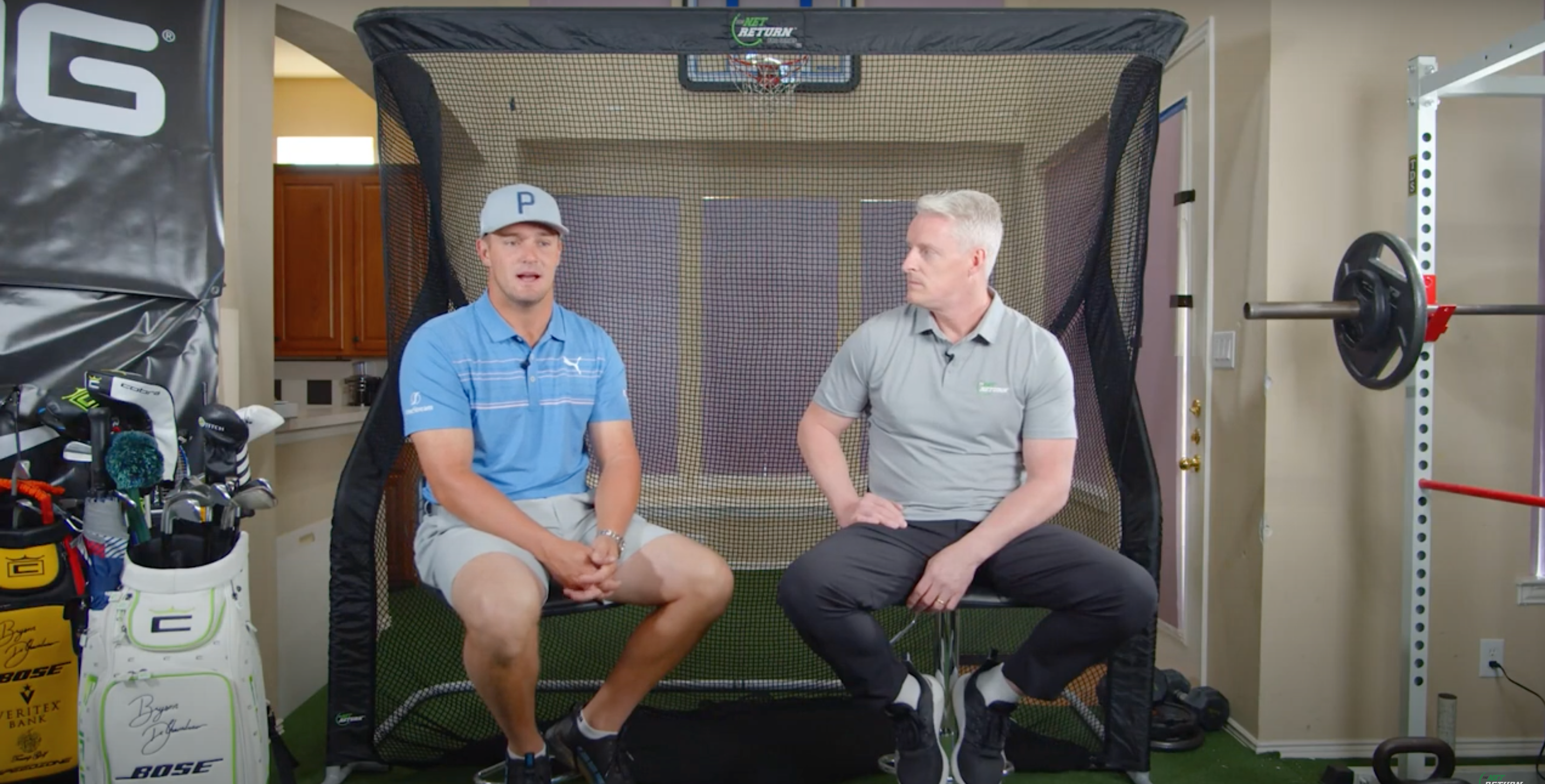 Video: Why Bryson DeChambeau recommends the net return